For Winks and Whiskers, attending and selling at events made us much more revenue than selling online. There are several aspects that make this true. One, customers get to "experience" your product. They get to touch and feel. They get to see how it might fit. It's truly a much more favorable interaction than clicking, zooming and inquiring about sizes online. Secondly, customers were more apt to purchase more than one product. They didn't have to worry about shipping and could easily size up how each shirt might fit. Additionally, Winks and Whiskers takes pride in using the most comfy tee's we could afford, so having the customers feel the material helped in selling it.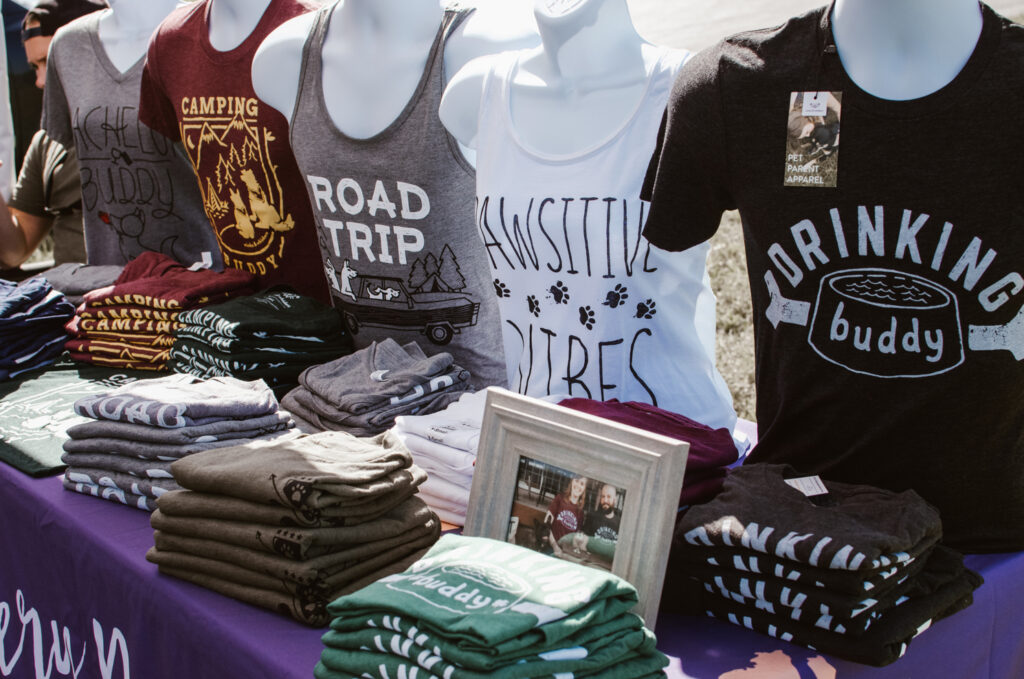 For us, big events fueled more shirt design options for our customers and allowed us to meet like-minded people and their small businesses, which in turn, gave us more insights and knowledge. A great example of this was gaining a social network which helped each other learn about MORE lucrative events. Yes, it's true, big events aren't as fun as smaller events on a brewery patio or on a street blocked off in a cool part of downtown, but it allowed for us to continue our operations. More people means more for sales. That simple. 
A lot of people we've met run local circuits, and they were privy to what was next on the dog friendly calendar of events. So buddy up and don't be shy!
If you are a small business who makes revenue attending both large and small events, we can leave you with one very important piece of advice… if a lucrative event is booked out, email the organizers anyway. We've found that simple email inquiring about any cancellations has given us the opportunity to attend "the big ones". You know, the big catch. The type of events that you couldn't imagine where your business would be without attending it.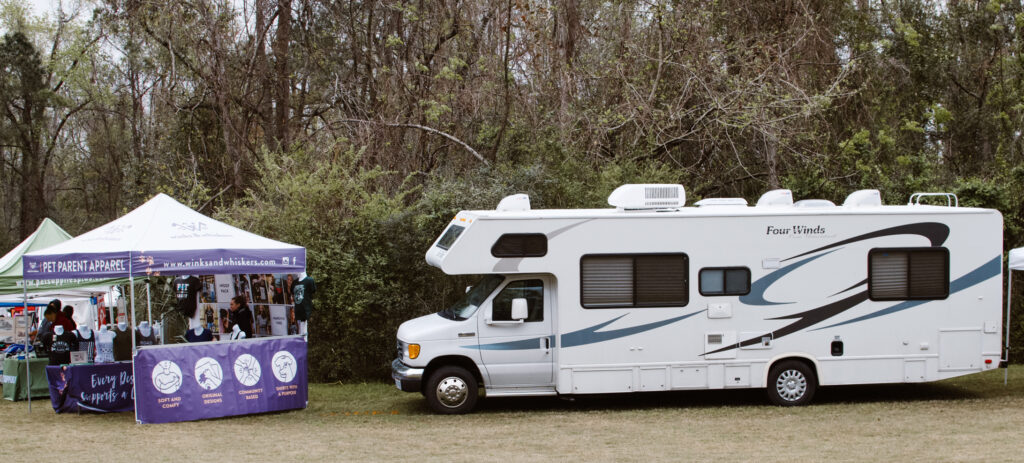 We've pitched a tent in a lot of different places
We've been to events all around the U.S. To us, when we first committed to the idea of traveling and becoming a vendor, it sounded like a transient wonderland of making cash and seeing the sights. We imagined everything from meeting famous people, to the coolest events located in the coolest spots. In reality, it's what you make of any situation, but we got a blend of reality kicking us in the keister to some really surreal events. For example, a dog friendly event located in Lake Tahoe. We've also been to events where we barely made a sale and were located in some not-so-ideal spots… like a parking lot. Or an alleyway away from all of the customers, which we call the "shunned vendors". At that point, the event organizers wanted your fee, but had to put you SOMEWHERE, even if it means you're away from the action. Regardless, it was life changing. We highly recommend it, and if you have a product you can sell at events, we hope you can take some of our advice with you!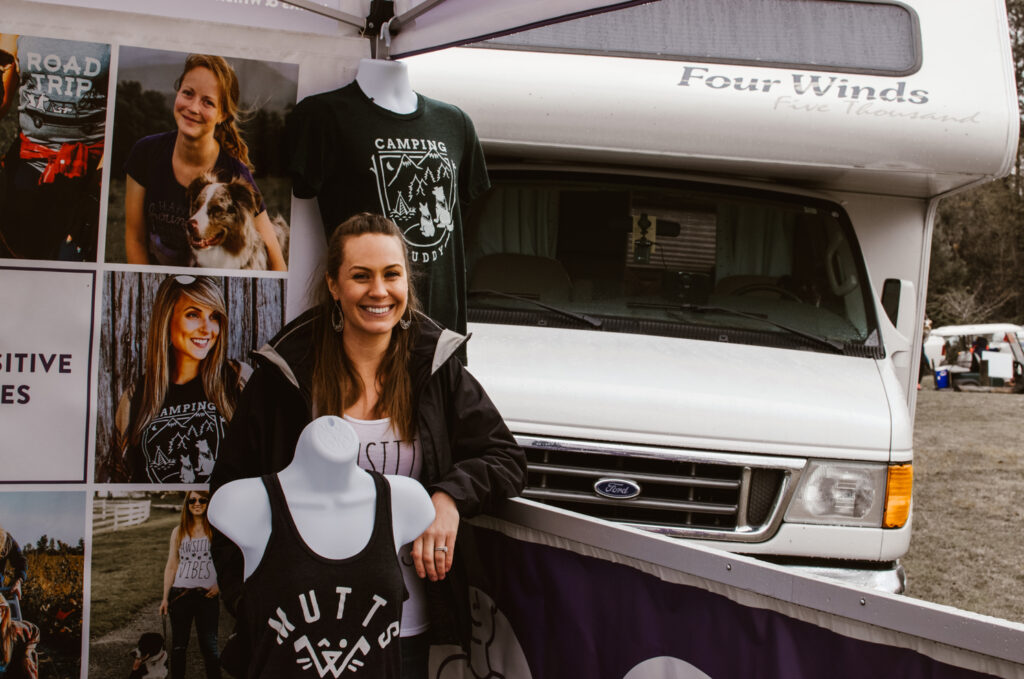 At a typical event, we would roll in hot with a 28ft Class C RV that held all of our inventory and event setup. It was a lot. We suggest you call ahead, and make sure you've got an ideal spot for whatever rig you are traveling with. We've always had events accommodate our needs, and that was super helpful for our unique situation. If you are traveling in an RV or trailer, we also suggest finding a spot for the night ahead of time. After a full day of selling your products, you don't want to stress where to stay. We've found that out the hard way, and made special efforts to have a spot for that evening.
We could be normal, organized people and suggest planning your route for a summer of events, but we actually enjoyed the scramble and coming across new events. Our priority was travel, but events did help us find our way. If we signed up for a big event and we weren't sure of our next month of travel, that answered it for us! Check out our article on planning for more hard-earned insights.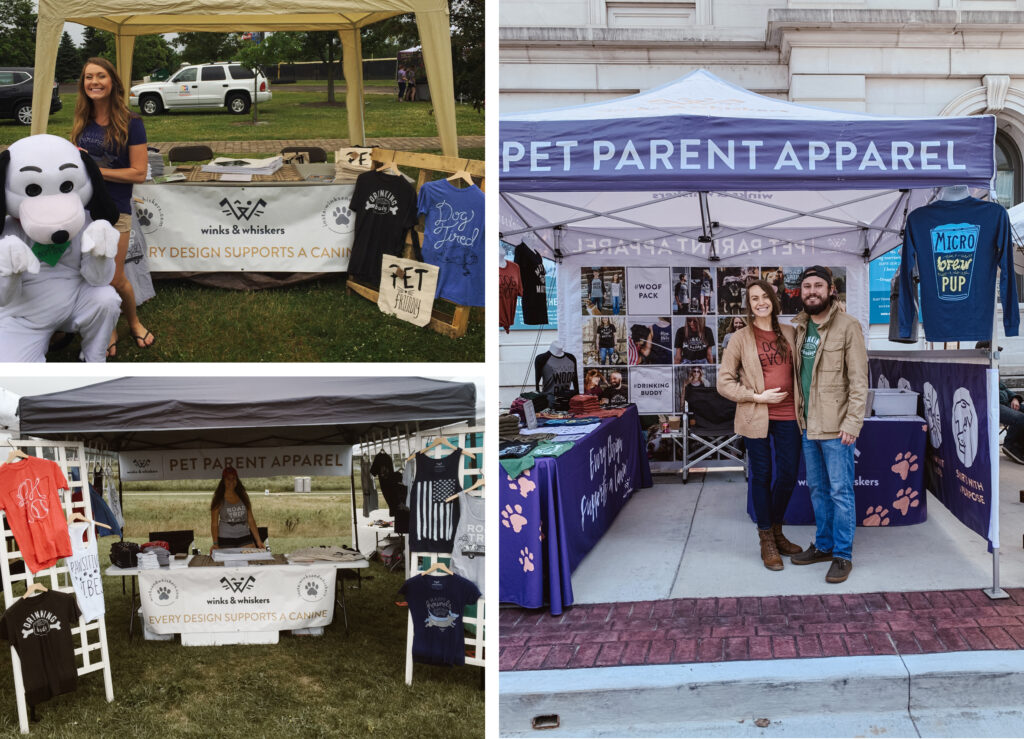 Your setup at events
Don't skimp on the setup. We started with a Wal-mart tent and found we spent more time setting that sucker up than we did getting our product ready for sales. After three events of struggling to make a setup work for us, we splurged on a branded, easy setup tent. It changed everything for us, and looked good! We could promote our name and website above everyone's eye-line and we had countless people ask us, "So you work for Winks & Whiskers? How can I become a vendor?". It was flattering!
Once you have something that works for you, diagram it out. That way, your next event is set up even faster! Our biggest stress was event setup. We would get frustrated with each other and make amends when it was finally up and ready. By getting a diagram ready that helps put everything in the right place and order, you are saving some serious time. Especially if you show up a little late…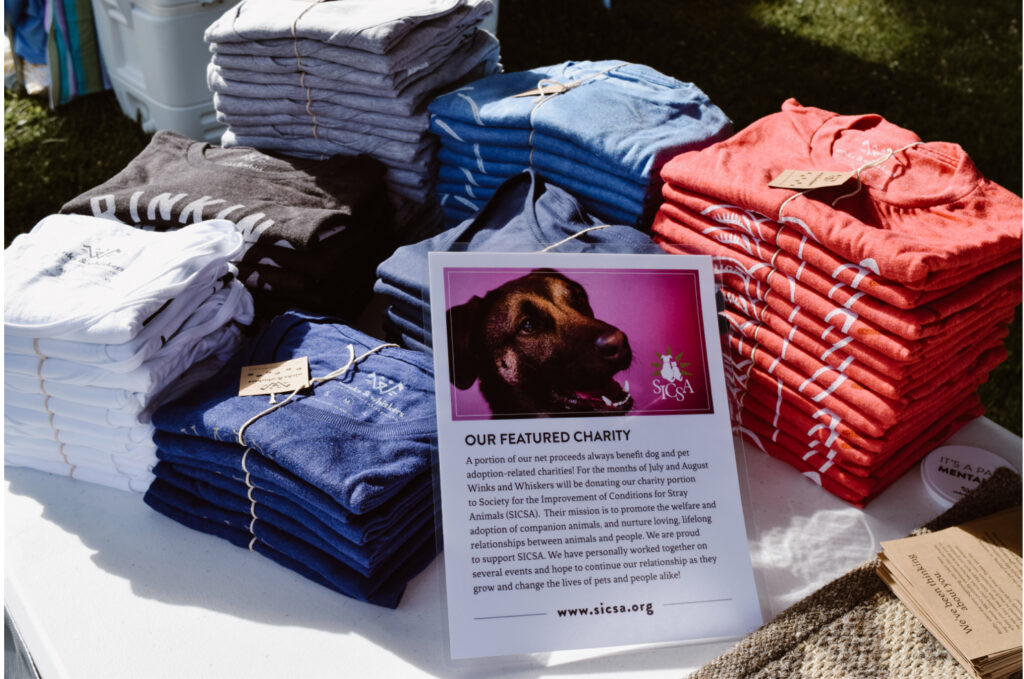 Make sure you have a sales bin. People love sales, and it also helps you push products out the door you've had for too long. You know, the product you were stoked about, but no one else shared your enthusiasm or vision? For Eric, it was our "Go Local" tee and Kayla it's our "Bachelor Buddy tee".
You need product people can touch and feel. Once someone can physically engage with the product, you're more than halfway to the sale. This is something shopping online cannot achieve. It's unique to make the efforts to attend the event, and it's why people go to events in the first place! 
We used Square for sales. It was generally reliable and worked for us. The tech only got better as the years went on, so they are definitely a company who is trying to improve their product.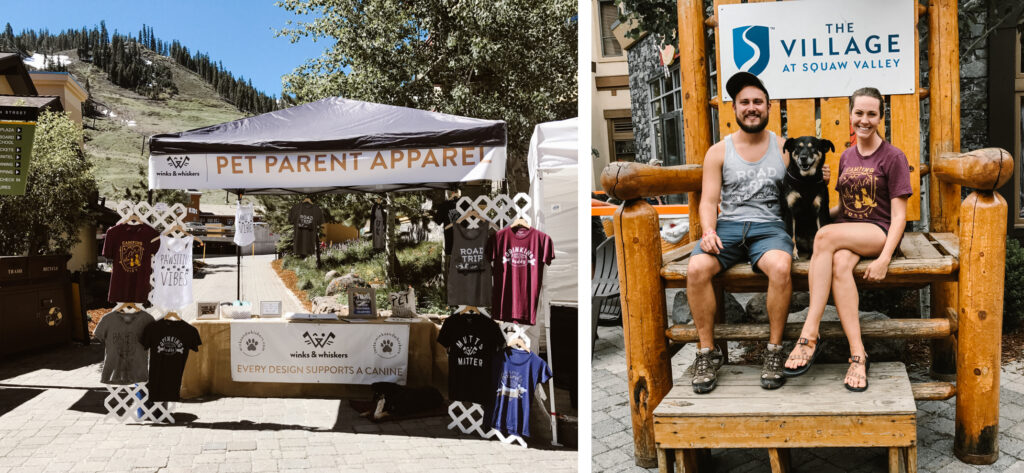 Not all events we sold at were parking lots
We've met so many great people at events. They really made it worthwhile. We've met customers who have put their all into animal advocacy, customers who've bought more than 5 items at once and left wonderful feedback and we've sat next to vendor neighbors who left us truly humbled.
Some events that stood out to us were located in Maine, Lake Tahoe and California. Those dreams of super cool events actually happened, and for every three mediocre events there was one extra special one. While at Lake Tahoe, we enjoyed a group dog hike during the afternoon and watched dogs splash around in competitive pool jumping. We encourage fellow traveling vendors to take the leap themselves and sign up for an occasional special event!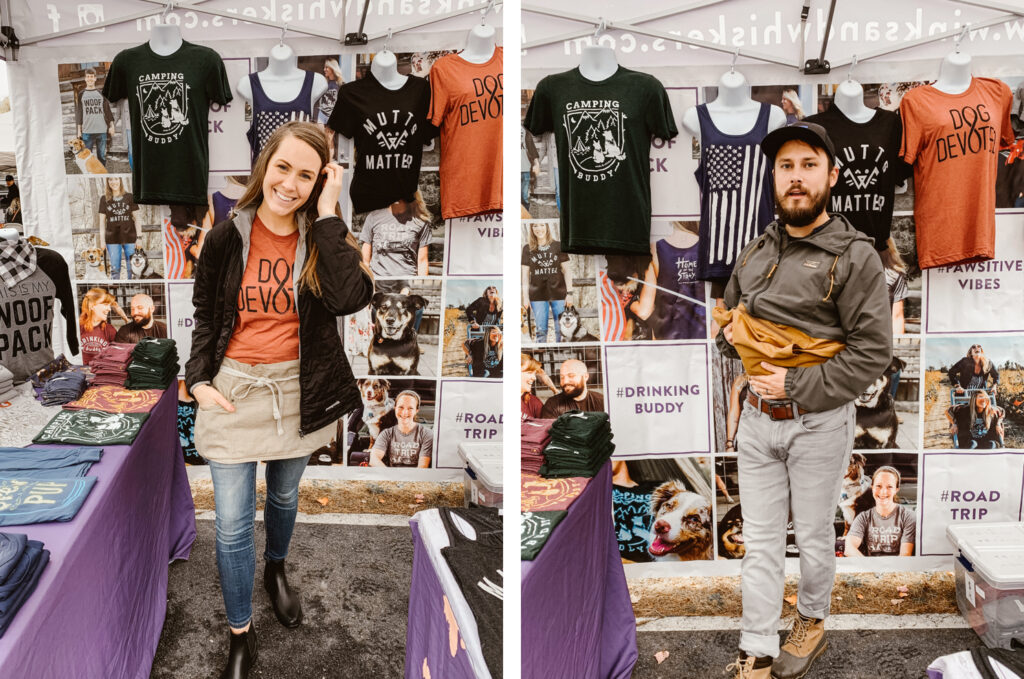 Read the room while selling
We've all been there. Hovering 10ft away from vendors so you don't have to engage with the sellers. You bust out your binoculars and scour their offerings and commit only when you're ready. We suggest leaving those people alone, and only engage when it feels right! You can literally scare customers away by being too forward. But, you can also close a sale by engaging at the right time. You can't always get it right, but put yourself in the customer's shoes and imagine yourself buying at a vendor. Eric has scared away plenty of customers with a bad joke!
Our proven formula? Tell your story first. People can empathize and get excited about a product that's not sitting in some giant warehouse. It gives the product life and meaning. We also suggest being a little vulnerable. Be honest about why you're selling this. 
Do not guilt a customer. Are you banking on that sale for gas money? Don't tell the customer that. Use that energy to inform the customer rather than making them feel sorry for you. Make it a positive experience for the customer, and it will be positive for you. We've definitely attended events that weren't successful, and we felt desperate to at least make what we spent to attend said event. People can sense that and it's super off putting. If it was a bad event, learn from it. Don't attend it the next year and make sure you assess why it wasn't a good one.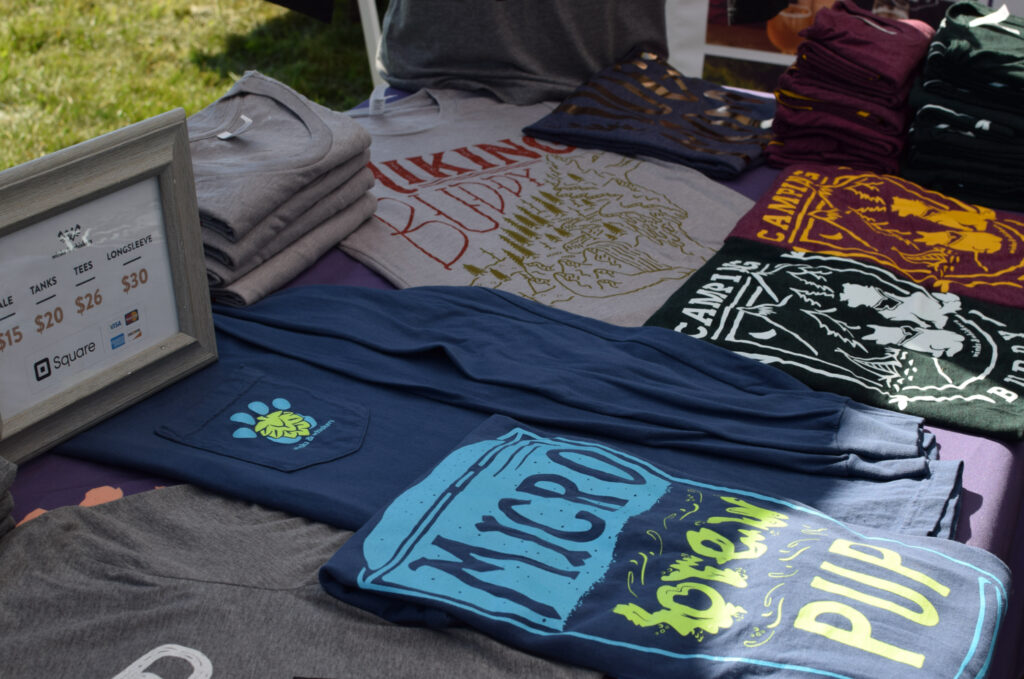 More advice on selling at events while on the road
We advise planning ahead, coming up with bundle sales and preparing for a long day. Our first events were stressful. At times, we weren't on the same page of responsibilities and found out fast it's OK to ask for help from the event organizers. Without writing a book about it, we've listed some key advice below:
Come up with a game plan

Play to your strengths: Eric was better at making a sale, Kayla was better at organizing and charging customers. This helps with surges of customers and the stress that comes with it!

Ask for help from the event organizer and their staff, no need to be cuoi. They are there to help you.

Bring LOTS of water

Bring snacks, you can spend a lot of money on food vendors as the temptation is REAL

If you bring your kids or pets, be prepared for a long day. Bring all of their food, snacks, water and anything to help keep them occupied.

Do inventory after each event, it sucks but it helps you in the long run
Don't trade with vendors. It's tempting, but we've found that more often than not, it's not a fair trade. For us, more cash means more donations and more shirt designs to keep it running. It's tempting to make a trade, but remember your end goals. Some people are there more as a hobby, so there is less on the line for vending trading. DON'T feel bad for telling someone "no". Respect your own boundaries! Trust us, there can be some "not-so-nice" neighbors.
Our biggest piece of advice? Don't be ashamed of the hustle. We sometimes felt guilty turning down a sale here and there as they didn't have enough money, but we also donated. It can be hard making those choices for your business. Of course, if they are in dire need please help, but if not, your business can't live on with the price points you've tediously settled on.
Be an advocate for your business and its mission.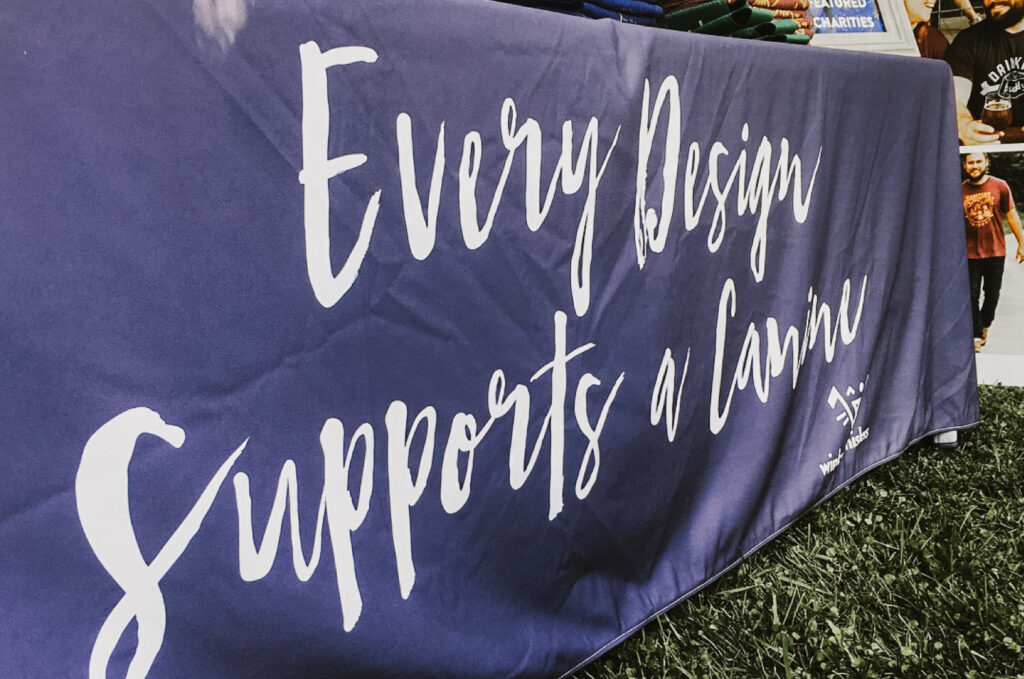 What would we have done differently?
Purchased a trailer for all of our inventory rather than just living with it. It would have allowed us to grow and not stay limited to our space in the RV.

Created an email sign-up sheet from the get-go. We got a lot of emails from events, and people were genuinely interested in learning more about us. 

Focused on special event sales like shirt bundles or by 2 get the third one half off. We didn't have the means or energy to create those sales items, but we should have put in the effort and created a system for it.
This article is a part of our "Running a Small Business on the Road" series, where we share helpful insights around running a small business while traveling full time. We're stoked to have you here and we hope we can inspire you to take the plunge and give it a try! Trust us, it's worth it.